Hampton Inn Tuscaloosa - East
6400 Interstate Drive, Tuscaloosa, AL 35453, Alabama, Estados Unidos
Mostrar no mapa
Aberto em1997 small town hospitality meets big city excitement...welcome to the Hampton Inn Tuscaloosa-East. Located along the banks of the Black Warrior River, Tuscaloosa is rich with both history and beauty. While our city is famous for the exciting University of Alabama gridiron action, we offer a variety of activities, from upscale entertainment to down home good times. When you stay at the Hampton Inn?? Tuscaloosa-East hotel, you'll have it all: college town charm, small town hospitality, and big city excitement. Whether you're traveling for business or pleasure, you'll want a Tuscaloosa hotel that offers all the comforts of home. Look no further than the Hampton Inn Tuscaloosa-East hotel. We're the perfect home base from which to explore all our vibrant city has to offer, including: the Mercedes Benz Visitor Center, Lake Tuscaloosa, the University of Alabama, golf courses, shopping malls, several fascinating museums and numerous public parks. It's all here, just moments from our Tuscaloosa hotel. services & amenitiesEven if you're in Tuscaloosa to enjoy the great outdoors, we want you to enjoy our great indoors as well. That's why we offer a full range of services and amenities at our hotel to make your stay with us exceptional. Are you planning a meeting? Wedding? Family reunion? Little League game? Let us help you with our easy booking and rooming list management tools.* Meetings & Events * Local restaurant guide
Mostrar mais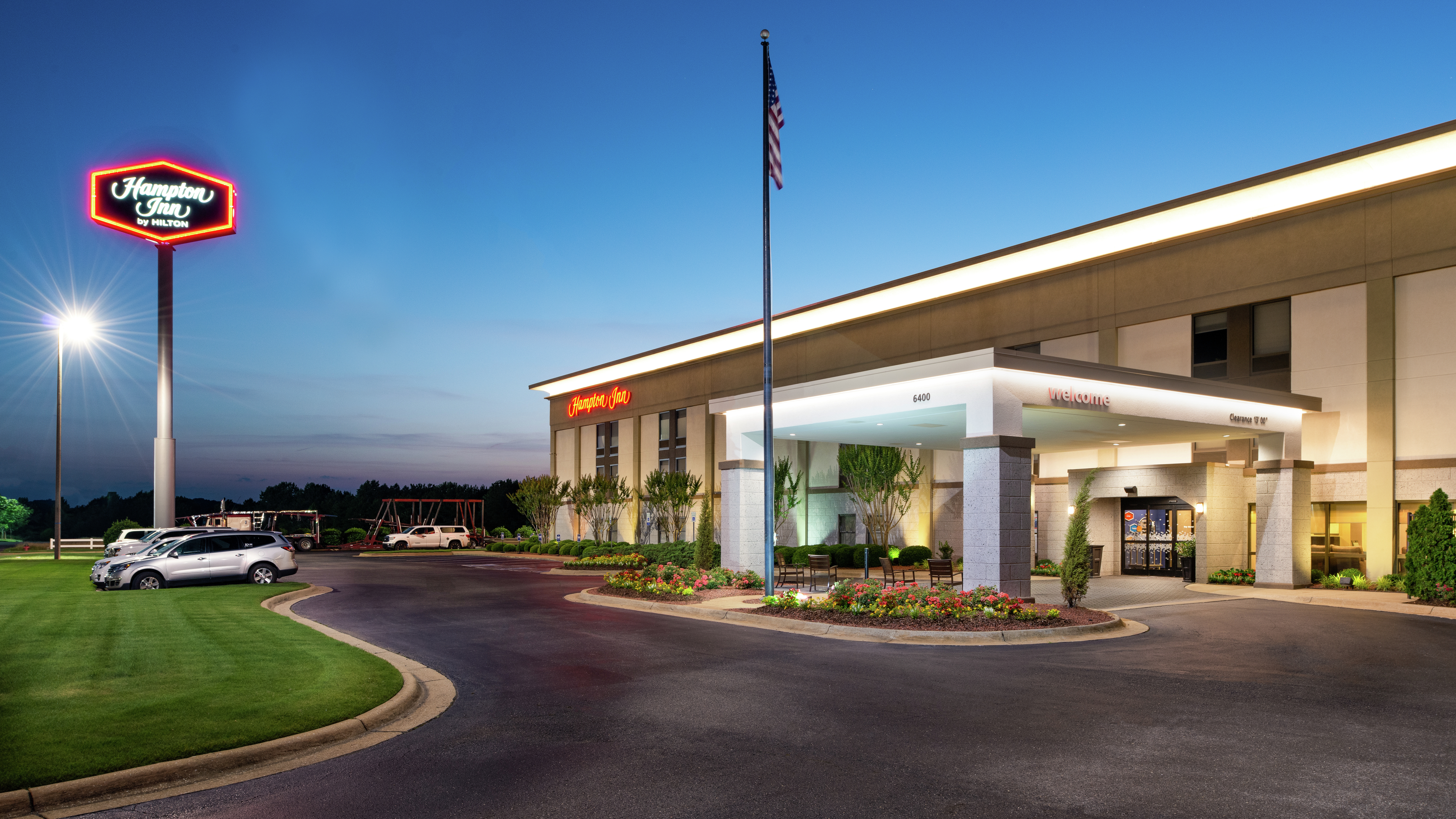 Nenhuma atração próxima à(ao) 1000 m, 11,8 km do centro
Ver mapa
Mostrar todas as comodidades

Mobility Accessible King Room with Roll in Shower and Sofabed
Todas as comodidades

Queen Room with Two Queen Beds - Non-Smoking
Todas as comodidades

Mobility/Hearing Accessible King Room with Tub
Todas as comodidades
King Room with Sofa Bed - Hearing Accessible/Non-Smoking
Queen Room with Two Queen Beds - Disability Access/Non-Smoking

King Room - Non-Smoking
Todas as comodidades

Mobility/Hearing Accessible Two Queen Room with Tub
Todas as comodidades
Política do hotel
Check-in e check-out
Check-in
a partir de 15:00
Check-out
antes de 12:00
Crianças e camas extras
Crianças são bem-vindas a este hotel. Taxas adicionais podem ser cobradas quando crianças ficam hospedadas com seus pais ou responsáveis. Favor confirmar com o hotel.
Saúde protegida
Medidas de segurança
CCTV nas áreas públicas

Extintor de incêndio

Detector de fumaça
Informações importantes
Guests must provide a credit card when checking in. The hotel will pre-authorize your card and the pre-authorization will be released if there are no extra charges or damage to the room when checking out. Some hotels and room types have special policies, please check with the hotel for more information.
Descrição do hotel
Aberto em1997
Reformado em2009
Número de quartos:80
small town hospitality meets big city excitement...welcome to the Hampton Inn Tuscaloosa-East. Located along the banks of the Black Warrior River, Tuscaloosa is rich with both history and beauty. While our city is famous for the exciting University of Alabama gridiron action, we offer a variety of activities, from upscale entertainment to down home good times. When you stay at the Hampton Inn?? Tuscaloosa-East hotel, you'll have it all: college town charm, small town hospitality, and big city excitement. Whether you're traveling for business or pleasure, you'll want a Tuscaloosa hotel that offers all the comforts of home. Look no further than the Hampton Inn Tuscaloosa-East hotel. We're the perfect home base from which to explore all our vibrant city has to offer, including: the Mercedes Benz Visitor Center, Lake Tuscaloosa, the University of Alabama, golf courses, shopping malls, several fascinating museums and numerous public parks. It's all here, just moments from our Tuscaloosa hotel. services & amenitiesEven if you're in Tuscaloosa to enjoy the great outdoors, we want you to enjoy our great indoors as well. That's why we offer a full range of services and amenities at our hotel to make your stay with us exceptional. Are you planning a meeting? Wedding? Family reunion? Little League game? Let us help you with our easy booking and rooming list management tools.* Meetings & Events * Local restaurant guide
Comodidades
Comodidades mais populares
Estacionamento
Café
Bar
Sala de reunião
(Taxa adicional)
Piscina externa
Business center
Área para fumantes
Academia
Sem Wi-Fi nas áreas públicas
Grátis
Guarda-volumes
Recepção 24 horas
Chamada para despertar
Atividades
Guarda-sol para praia/piscina
Serviços na recepção
Check-in e check-out expressos
Serviços de limpeza
Serviço de lavanderia

(Taxa adicional)

Serviço de lavanderia (externo)
Área pública
Sem Wi-Fi nas áreas públicas

Grátis

Áreas de descanso para visitantes

Proibido fumar em áreas públicas

Móveis para ambientes externos

Máquina de venda automática
Serviços comerciais
Sala de reunião

(Taxa adicional)

Serviço de fax/cópias

(Taxa adicional)
Instalações para crianças
Jogos de mesa/quebra-cabeça para crianças
Ainda não encontrou o hotel certo?